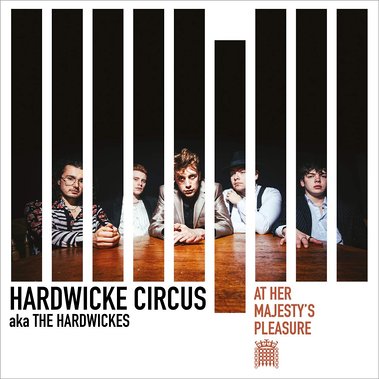 At Her Majesty's Pleasure
LONDON – When someone is sentenced in England it is said to be done "At Her Majesty's Pleasure." So it was only fitting that after touring 15 prisons in November 2021, Hardwicke Circus named its "prison album" album At Her Majesty's Pleasure.
The pleasure was theirs and the inmates they performed for.
Click the cover to listen.
Among the songs on the limited-edition At Her Majesty's Pleasure are seven from the band's debut album, The Borderland, and two covers, Bob Dylan's "Highway 61 Revisited" and The Band's "The Weight."
Recorded in prison chapels, Hardwicke Circus have produced an album that will forever align themselves with the disenfranchised.
"Playing inside U.K. prisons reinforced why we do what we do. We are songwriters and musicians, we want to tell people our story and perform live and the prison tour gave us a unique opportunity to do this in a new environment," said Hardwicke Circus singer and guitarist Jonny Foster. "At first we weren't sure how our northern rock n roll music would go down. None of us had ever gone to jail before. Our performances and Q&As were the first of their kind in U.K. jails but the crowds were so tuned in and attentive to every chord struck and word sung. These moments meant a lot to us. Even when their backs may have been up against the wall, our music resonated with the inmates in new ways and our lyrics formed a whole new meaning. This very real two-way connection breathed a new lease of life into the band and we would love to go back on the inside.
The songs on At Her Majesty's Pleasure were taken from shows at HMP Standford Hill and HMP Elmley prisons. The recording is a fast paced, no holds rock and roll document of a band giving it their all for receptive audiences.
At Standford Hill, the band's "When The Chips Are Down" inspired inmates to jump on stage and join in. The song features inmate Nazim Uddin. At Elmley, an officer joined the band on lead guitar to the enthusiastic shouts of his fellow officers on the band's rendition of "Highway 61 Revisited."
But perhaps the most extraordinary moment came from Coldingley prison. Although not recorded, an introverted prisoner who never socialized with others and who had no friends, turned up for the Hardwicke Circus performance with his own guitar and sat in front. When the band asked if anyone would like to sing, he immediately put his hand up.
"I saw others in the audience nudging each other and rolling their eyes. I did myself wonder how I would manage the situation if he got heckled off the stage," said Foster.
"However, he confidently got up on the stage, took prize position and took the lead vocals. To everyone's amazement, including mine, he was outstanding. He gave the most electrifying, operatic blues rendition of 'Born Under a Bad Sign' that the band had ever heard. The whole room erupted, cheering as if they had only just discovered music for the first time. Only after our performance did we find out from an officer that our guest singer had been in the jail for years and had never spoken a word to anybody–prison officers or inmates. Not a word to anyone.
"It made a massive difference to someone who struggles with prison, giving him confidence and showing others you don't have to look like a rock star to sound like one," Foster said.
This journey does not stop with the clanging of cell doors. The band members are proud to stay connected with many of the inmates, heartened to hear tales of improved well-being in the cells and of an uptake of poetry, lyricism, guitar playing and performance since the band's visit.
At Her Majesty's Pleasure is released on their own label, Alternative Facts Records, in a limited run of only 500 CD digipaks. The digipak includes a one-off pull out poster of the band.